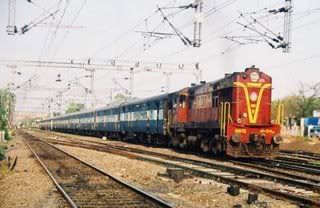 © Harish Jharia
In 1960s, Indian railways had three classes. The 3rd class was for common people 2nd class for middle classes and 1st class for the higher classes.
I remember my childhood railway journeys when our family used to travel in 3rd class couches, that had wooden benches to sit or sleep and windows wide open without iron grills. There was no system of berths and reservations. Travelers used to buy tickets and board the train and travel long journeys, just like that.
My dad used to lift me up in his arms and push me through windows right on the wooden benches in the couches with instructions to capture as much place as required for our family. Similarly, we used to load our luggage through the windows and later my dad used to stack all the pieces on the upper berth.
We children felt quite excited all through our journeys. We enjoyed the puffing sound of steam engine, the loud shrill sound of whistle and the mixed smell of steam and smoke that gushed in the couch through windows.
I traveled in 2nd class for the first time when I went to Bangalore for my SSB interview in 1964. The class of my travel successively elevated with the passage of time and so were the technology, quality and facilities in trains.
In 1970s, the journey between Jabalpur and Dehradun was so hectic to accomplish. We had to travel in the first train from Dehradun to Delhi, secondly from Delhi to Bina in another train and finally from Bina to Jabalpur in the third. There were long waiting hours on each railway junction with minimal facilities for food and water.
Today the Indian railways are one of the best setups in the world. We have fast and super-fast long distance trains, with facilities of air-conditioning, catering and online reservations. We have the best possible infrastructure in the world, on which the railways have invested billions of rupees from the people's treasury. In spite of all this the users are dissatisfied, frustrated and most of the times feel cheated and exploited.
The main reasons for the denial of expected facilities to the users, for which they pay, are rampant mismanagement, negligence in maintenance, corruption and inefficiency of employees.
The Indian Institute of Management (IIM), Ahmedabad, had invited the Railway Minister for delivering lectures on management to their students. It is a testimony of expertise of the minister in the field of management. Nevertheless, you would hardly believe on IIM's perspective if you look at the way the Ministry Of Railways manages Indian Railways. The following are the areas where Indian Railway's mismanagement, negligence in maintenance, corruption and inefficiency of employees is apparently perceptible:
Overall condition of trains are bad… broken, dilapidated, vulnerable

Condition of tracks are bad… lose, uneven

Cleanliness in trains and stations is not satisfactory

Quality of fittings in the compartment and in toilets are poor

Quality of repairs and servicing on interiors is poor

Cleanliness on tracks and yards is drastically poor

Most of the trains do not have catering facility

attendants and housekeeping staff do not wear uniform and name tags

A / Cs are miss-operated by untrained staff

Users have to pay bribe for 'tatkal' reservations

Users have to pay bribe for 'wait list' and 'RAC' conformations

Unauthorized private vendors sell tea and snacks in A / C couches

Trains do not run on time

There is no control on unauthorized boarding by politicians and their accomplices

Quality of food served in running trains is poor

Complaint book is not readily available
---------------------------------------------------------------------------------
Disclaimer:
This article is written based on my personal observations. My intention for publishing the same is to provide healthy reading and intellectual entertainment and not for educating the visitors. No literature or authentic books have been referred for writing the contents of this article. The visitors are advised not to refer the contents of this article for any research or testimony on scientific, geographical, political, civic or legal purposes. The visitors are further advised to consult relevant experts before adapting any information from this article. The author or the web site are not responsible for any errors, mistakes, or omissions there in.
- Harish Jharia
---------------------------------------------------------------------------------
npad